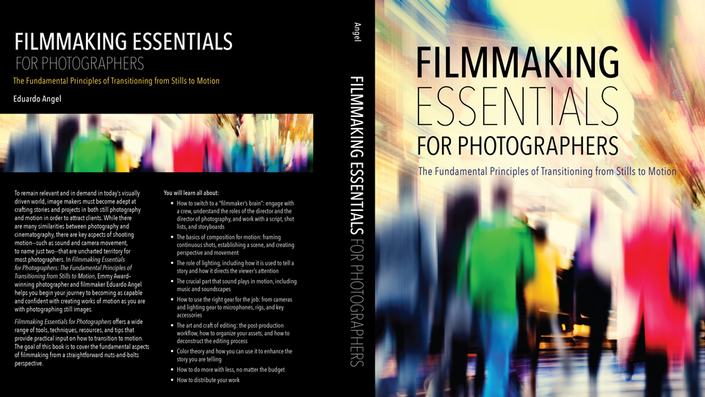 Filmmaking Essentials for Photographers.
Specifically crafted for photographers transitioning into video, and professionals pursuing new markets. ​
Watch Promo
Why Filmmaking Essentials?
One of the main chal­lenges pho­tog­ra­phers face when starting to shoot video is to focus too much on hardware and software, and for­get about the most important part; the story. While this informative course includes some tech­ni­cal infor­ma­tion, the main goal is to provide an overview of the many aspects of filmmaking, and identify potential business opportunities with motion.
The "Filmmaking Essentials for Photographers" course is based on a popular event Eduardo Angel has been presenting for several years, but it has been greatly enhanced with additional visuals and examples. Some of the clients and sponsors for the live event include Adobe, Adorama Pro, B&H Photo, Cinevate, Future Media Concepts, Gulf Photo Plus (Dubai), HOW Design Conference, International Center of Photography, Lynda.com, McCann Erickson, NAB Show, Panasonic, Photo District News, PhotoPlus Expo, Photokina (Germany), Savannah College of Art and Design, School of Visual Arts, Sony, and X-Rite, among others.
Total Duration: 64 Minutes.

Your Instructor
Eduardo Angel is an Emmy Award-winning visual storyteller, independent technology consultant and educator based in Brooklyn. His mission is to inspire and empower photographers and filmmakers in the use of technology to enhance creativity.
Eduardo has worked as an Adobe official beta tester for Lightroom and Premiere Pro, has taught at the School of Visual Arts and the International Center of Photography, mentors the Photography program at the Savannah College of Art and Design, and is the author of popular filmmaking courses and articles.
Eduardo speaks at conferences and industry events around the world and regularly publishes his thoughts on his blog eduardoangel.com. He is also a cofounder of the idea production company The Digital Distillery.
Selected clients include: Adobe, Canon U.S.A., Chicago Architecture Foundation, Fashion Institute of Technology, Future Media Concepts, Gulf Photo Plus (Dubai), Hasselblad, Lynda.com, McCann Erickson, Mamiya/Leaf, New York Magazine, NAB Show, New York Times, Panasonic North America, Panasonic Middle East, Photo District News, PhotoPlus Expo, Photokina (Germany), Sigma, Sony, Tenba, Time Inc. Digital, and X-Rite, among many others.
Course Curriculum
First Section
Available in days
days after you enroll
Frequently Asked Questions
When does the course start and finish?
Our courses are completely self-paced - you decide when you start and when you finish. How's that for convenience?
How long do I have access to the course?
After enrolling, you have unlimited access to this course for as long as you like - across any and all devices you own.
What if I am unhappy with the course?
First, please tell us why aren't you happy within 48 hours of your purchase so we can make things better for everyone. If you are still unsatisfied, we will give you a full refund.
TESTIMONIALS
"Reliable, on time, knowledgeable, and a pleasure to work with. I would highly recommend Eduardo for both his photo, video AND teaching skills. He possesses a combination of attributes especially rare in today's world!" Mike Edwards
"Eduardo is a talented educator and professional who is always at the ready to share his knowledge and be of assistance to anyone who asks. Brenda K. Hipsher
"Eduardo's enthusiasm and expertise in the photography and filmmaking fields are second to none. His willingness to get the job done and act as a stickler for details makes him a valuable asset to anyone in the industry." Doug Sperling
"There is an inspiring dedication and drive in everything Eduardo does. From minor tasks to large-scale projects, Eduardo proves that he is someone you can count on to get the job done." Timothy Campbell
"Eduardo is a deeply informed and savvy technical expert. He has a highly structured and detail-oriented approach, extremely responsive, and he is highly personable — which has always made our work together effective and enjoyable." Brent Oppenheimer
"Eduardo is a great teacher. In a very short time I learned a lot and my skill level improved significantly." Stefanie Werner
"Eduardo has helped me immensely, and I highly recommend him. One of the most knowledgeable people I have met, and is a great photographer as well." Gerald Tanenbaum
"Eduardo Angel has a gift for communicating difficult concepts and techniques with clarity, precision and focus. He is extremely knowledgeable and driven as well as very creative and highly organized." Catherine Brikke
"Eduardo's teaching methods instilled in me the sense of urgency and high energy needed to complete shooting tasks on schedule. Now I feel more like a professional-minded person and less like a clueless student. I will always attack everything I set my mind to with focus and high energy." Nicole Johnson
"I have been very interested in getting ahold of the video basics, but Eduardo taught more than just basics! Eduardo's courses are personable, fun, interesting, jammed full of useful information and inspiring stories. Everything he covers is easy to comprehend and he only spends time on practical tips we will need to know and use. I would highly recommend taking a class with Eduardo." Lauryn Gerstle
"Eduardo is everything the serious student wants in a teacher, an experienced educator with professional real world experience, extraordinary technical expertise, a knack for verbal and visual presentation that promotes true understanding, good listening skills, and great patience in the classroom." Robert McCaw
"I had heard so many complementary things about Eduardo's teaching techniques from other students that it was nice to experience his courses firsthand! He combines a keen sense of aesthetics with his extraordinary technical acumen, providing his students with a rarified hands-on experiences." Calli P. McCaw
One of my litmus tests adds a qualification that describes a person outside the work environment. Eduardo's core character of kindness and courtesy manifests itself honestly outside the workplace." Dennis Wood - CEO Cinevate Inc.
"Eduardo's depth of knowledge is truly impressive. In fact, the course I took was possibly the single most useful art or photography course I have ever taken - I changed my flight back to London to get the full benefit of the class, and it was definitely worth it!" Scott Mead
"Eduardo's classes provide the understanding that comes only from long experience as a pro. And you can clearly tell that for him teaching photography and video is a labor of love." David Moya
"For a day and a half Eduardo kept my attention, disseminated vast amounts of information and managed to entertain. His workshops are incredibly informative, organized and easily understood. He inspired me to embrace the transition from shooting stills and directing some footage to shooting footage on my own. I have two small projects in the works and I can honestly credit Eduardo for removing the element of fear with the great knowledge he shared. Rana Faure
"Eduardo's ability to make the highly technical information clear and organized enabled me to take notes that I have been referencing as an incredible cheat sheet." Rana Faure
"I was fearful about film/video since I have been comfortable with still images. However since Eduardo's workshop I have been quickly adjusting to video. With Eduardo's experience in the industry along with the information he shared, I realized there is nothing to be afraid of in the constantly changing media landscape. If you want to be forward thinking and innovative, learn from Eduardo Angel." Matt LaVere
"I have taken many courses by Eduardo and I cannot recommend him highly enough. Besides being extremely knowledgeable, Eduardo is personable and funny, which makes everything that much better." Julie Markes
"As a person who takes many seminars, I would like to highly recommend Eduardo Angel. In addition to being extremely knowledgeable, he has a dynamic personality and is a wonderful teacher. His workshops are always packed, and all attendees come away very happy. Eduardo's last seminar was the best I have ever attended, due in good part to his teaching style. David Delasala

"I would definitely recommend Eduardo because of his great and perfectly organized teaching! He has shockingly deep knowledge, he's always very kind and helpful and his energy seems endless!!!!" Elisa Finoli
"Attending Eduardo´s workshops is an enriching experience. He not only encourages you to try new and different techniques but he also provides us with truly useful tips. He has an amazing knowledge of every current product. I absolutely recommend taking one of his courses. He is such an enthusiastic teacher!" Angela Pons
"I found Eduardo to be an exceptional instructor. He is passionate about the subject and it shows in his energetic teaching style. His willingness to share his experiences and good humor made the class fun. I can unequivocally recommend his course to anyone interested in architectural photography. Ron Grunhut
"Eduardo's workshop was a great way to get acquainted with the process of shooting video. Mr. Angel took us from the pre-production process all the way through production. As a video editor with more than 15 years of experience, I was pleasantly surprised to hear him talking about post-production, formats, and codecs, in terms that any still photographer could understand. I went to the seminar looking for a better understanding of HD Video on DSLR cameras and came out with that, and a lot more. If you want to make the move from stills to movement, he is excellent resource to get started." Gerardo Ramirez
"I arrived to Eduardo's workshop with ZERO knowledge about video, and was completely intimidated about jumping into the world of video. I had high hopes he would give me confidence, but was prepared to be disappointed if that didn't happen. The event was worth every penny I paid. I left feeling inspired and ready to START shooting video right away. His enthusiasm, attention to detail, and care in creating a curriculum that was logical and easy to follow, along with his good humor as a teacher are a big part of making his teaching style such a huge success." Carolyn Fong
"Eduardo promised that at the end of his workshop, we would go out and shoot video. And we did. He provided essential and critical info, and clarified questions I'd been struggling with for months. Also, he gave a good overview of accessories we might need as our work advanced. I left feeling "I can do this!" Joyce Morrill
"Eduardo is straight to the point, smart and funny. He shares all that you need to know to become a videographer in a very simple way. Loved it." Mariela Murdocco
"I thank Eduardo for all of his helpful insight into the "scary" world of video. With his easy going style, and meticulous attention to detail, he made what I considered a huge leap into video seem more like a small and exciting step." Allan Shoemake